"Marci Cagen is a dynamic and gifted teacher and lightworker. Her lighthearted, down-to-earth approach inspires others from all walks of life and spiritual backgrounds." – Sunny Dawn Johnston, Psychic Medium and best-selling author of Invoking the Archangels and the Love Never Ends
How to Meditate Using Guided Imagery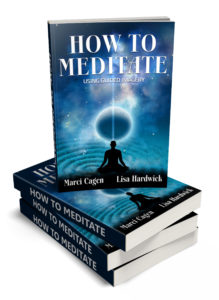 My latest best-selling book contains guided imagery scripts for individuals, teachers, presenters and workshop facilitators. Whether you are new to meditation or just want to improve your practice, this book features over 50 topics including connecting with angels, creating abundance, emotional healing, finding your purpose, weight loss and more. There is even a bonus section for children!
365 Days of Angel Prayers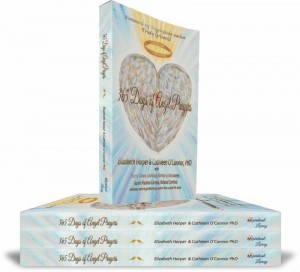 What if every day you could encounter the divine? What if you could regularly know the blessing of deep peace and abiding joy? What if you could talk to angels? Great news—you can!
365 Days of Angel Prayers is a multi-author anthology of daily readings written to inspire and guide you to
experience a rich and continuous communion with the angelic realm.
Whether you choose to read that day's entry or take a more spirit-led approach, these prayers, blessings, invocations, and essays will help you learn how to communicate with angels. And as you allow the words to wash over your mind and heart, receiving the healing inherent within them, you will begin to see that there is no one way to pray for divine blessing or assistance. Soon, you may even find your own unique words pouring out—embrace them. Remember, this book is a collaboration, one you are warmly invited to join.
Soak in the deep peace, love, and joy of the angels. Through your daily connection, you will begin to shine their heavenly light and share their divine love with everyone you encounter. So, if you love and want to work with the angels on a daily basis in a profoundly loving way, you've come to the right place!
Whispers of the Heart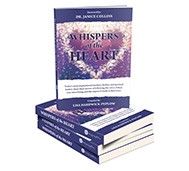 Whispers of the Heart is filled with today's most inspirational teachers, healers and spiritual leaders who share their stories of following the voice of their wise inner being and the impact it made in their lives. Through their gentle teachings, you will learn to listen to and embrace the wisdom of YOUR own heart, empowering YOU to live a life full of PEACE, LOVE and HAPPINESS! Order your autographed copy at the special discounted price today!
Living Your Purpose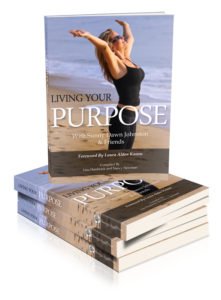 What is my purpose? What am I meant to do, who am I meant to be? What do I need to do to serve my purpose?
These are common questions for all of us. Purpose is constantly changing as we grow and evolve, therefore the form purpose takes in your life, is ever changing. In this book, each author will share their
own stories, their self-discoveries and their
personal journey to discovering their purpose. You will embark on your own personal journey of self-love and transformation while learning to trust your intuition and spiritual gifts. You will also discover many helpful tools that will help you to step into YOUR life's purpose. What are your waiting for? The time is NOW! Live your purpose!