Hey there, Sunshine!
Isn't the image for this post FABULOUS?! I captured it up in Northern Arizona the other night while fishing with my hubby, and I thought it would make a great pic for this post. As you probably already know, the summer solstice is the longest day of the year in the northern hemisphere.
On the Solstice, we honor the Light, we remember the Light, we celebrate the Light.
It is a time of giving thanks for all the blessings and abundance in our lives. It is also a great time to set goals and intentions for the coming months. I usually set up a sacred space to honor this special day within in our home. This year, I purchased a few sunflowers and arranged them along with some healing stones, a cantaloupe, and an orange candle to symbolize all of the light, beauty, health and abundance in our lives.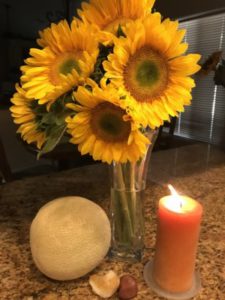 Do you have any rituals that you like to do this time of year? If so, I'd love to hear from you!
In celebration of Summer Solstice, I thought I would offer a sweet summer spritzer aromatherapy blend. This recipe is both calming and relaxing. It's fragrant scent brings a feeling of light-hearted happiness. I hope you enjoy!
Blossoms in the Breeze Solstice Spray

10 drops Lavender essential oil
8 drops Orange essential oil
4 drops Cedarwood essential oil
4   drop Geranium essential oil
1 oz. distilled or filtered water
Drip all essential oils into a glass spritzer bottle and add water (slowly) to the "shoulder" of the bottle. This will allow room for you to replace the cap without spilling. Gently shake and spray mist over your head. Repeat as desired.
Happy Solstice!